Edible flowers: How to use them this Autumn
November 12, 2019
As the nights draw in, what better way to hold on to summer than baking with bright and fresh edible flowers?
Edible flowers are a fantastic way to spruce up any cooking, sweet or savoury. Today, we suggest the perfect ways to add flowers to brighten up your baking and desserts.
From the more simple to the sublime, and with a vegan option too, you'll be sure to find a treat you want to rustle up.
Lavender Shortbread
William Werner
Using the highly fragrant lavender, these shortbreads will be sure to make an impact. Effective for muscle pain and relaxation, lavender is a great edible flower to use on these cold Autumn days.
Although this recipe uses only violas to decorate, this is the perfect bake for you to get as creative as you want. We suggest adding Paradise Flowers and Tagetes to play with an Autumnal colour scheme.
Try the recipe in full here.
Vegan Tiramisu
Fabrizo Marino
Taking a spin on the traditional Italian tiramisu, Marino creates a fennel vanilla cream, and decorates his dessert with a more abstract eye, adding pansies to give it a quirky, warm edge.
Edible flowers are great for both a classic and modern dessert, and with the versatile plating of this dish, you could use any flower you wish!
Try the recipe in full here.
Pumpkin Celebration Cake  
Nadiya Hussain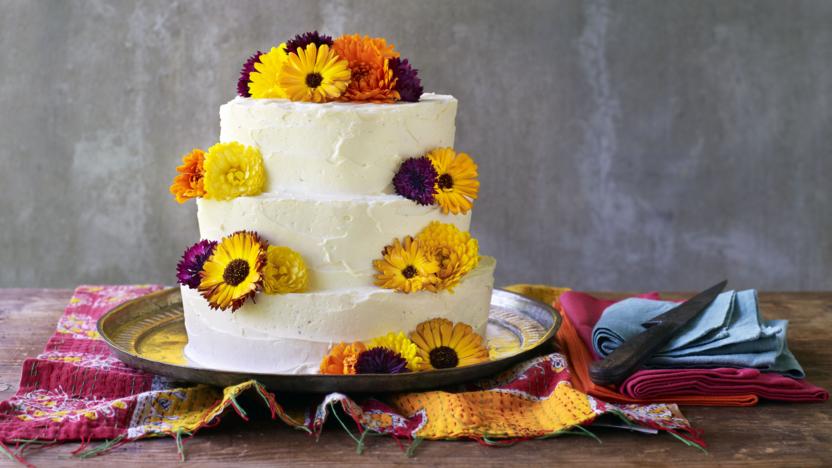 If you are in need of an effective celebration cake this Autumn, 2015 Great British Bake Off winner, Nadiya Hussain, has you covered. With a rustic finish, this is a bake you can go as little or as large on the decorations as you choose.
Nadiya uses orange and yellow marigolds to decorate her masterpiece, but you could use any edible flowers and become as creative as you like. Tiny Tagetes, Calendula, and Bellis Daisies would fit an Autumnal theme very well.
Try the recipe in full here.